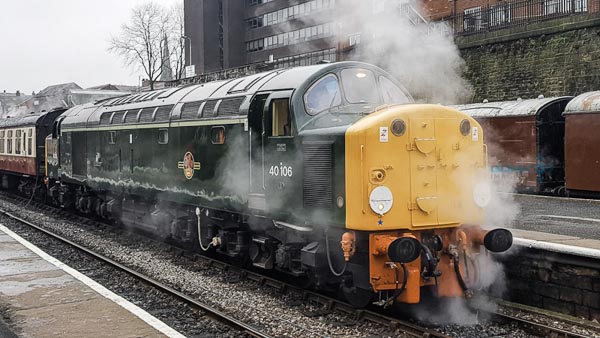 East Lancs Railway Spring Diesel Gala 2018
The weekend of February 17th and 18th February was the East Lancs Railway Spring Diesel Gala 2018 and saw us make our first of several visits this year to the East Lancs Railway.
The East Lancs Railway always puts on a great show in conjunction with the East Lancs Railway Diesel Group and the other based owners and loco groups.
In all, the East Lancs Railway probably has the best 'home fleet' of any preserved railway in the UK.
Not many railways can boast the following locos as 'home based'!
Class 14
Class 33
Class 35
Class 37
Class 40s – note the plural!
Class 45
Class 47
Class 50
Pre Show Hiccups
No gala ever runs smoothly and a few locos did succumb to niggly problems before the gala started namely –
Class 56 56006
Class 47 D1842
Class 42 D832
At the end of the day, these complicated locos require a great deal of time and manpower combined with plenty of cash to keep running, so can be forgiven for the odd hiccup now and then – although 56006 seems to be pushing its luck. This loco is turning into a bit of a hangar queen!
Another Great East Lancs Railway Gala
By all accounts the gala went well. The train service was mostly maintained although there were a few issues here and there. Class 50 50015 Valiant had encountered a few problems on the run up to the gala but performed impeccably.
Everybody we spoke to seemed really happy with the event, so well done East Lancs!
Trade was good on the 50021 and 50026 fundraising items and the main stall so a huge thanks to everyone who came and chatted or bought something. Its all very much appreciated!
Below is a fun video of the highlights from Bury followed by some cartoon storyboard artworks I have been playing with.
Video Highlights of the East Lancs Railway Spring Diesel Gala 2018
ELR Locos in Cartoon storyboards
Thanks and Back Again Soon!
Another big thanks to all the loco owners, volunteers and staff who jointly made this a thoroughly enjoyable – albeit absolutely freezing – railway gala!
We will be back to the East Lancs Railway on 2nd March for the 3 day East Lancs Railway Spring Steam Gala to do it all again!
If you are planning on going then make sure you drop by and say hi! If not, you can find GDMK Images at these events
All the best
Gary and Dawn
Share the East Lancs Railway Spring Diesel Gala 2018 with your friends and family …. thanks!