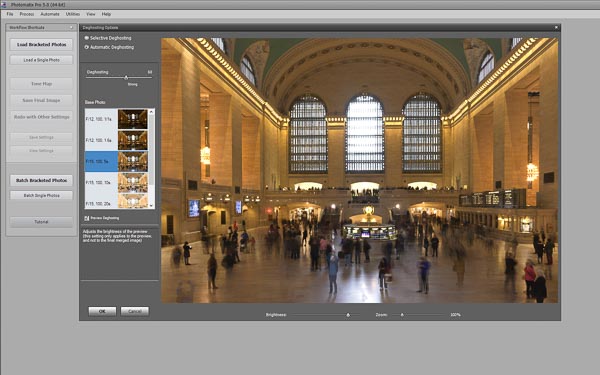 Long Exposure HDR at New York Grand Central Station

Welcome to part 2 of my posts discussing and sharing photography trips in relation to our Ted on Tour USA road trip.
One technique I have been experimenting with is long exposure HDR. This technique is great for creating abstract effects and accentuating the illusion of movement. Read about how I approach long exposure HDR to create pictures with a wide dynamic range and enhancing a sense of movement in a scene.
Standard HDR photography doesnt usually feature movement. HDR is used primarily to capture a static scene that has a wide dynamic range between the highlights and shadows. Long exposure HDR, as the title implies, is the same concept of capturing a wide dynamic range, but uses long exposures. By the very nature of long exposures, you are going to record any movement of elements in your scene as either a blur or light streak.
Using Ghosting to Your Creative Advantage
Ghosting is caused by the tiny movement between each shot when hand holding a sequence of photos of the same subject. When you overlay these photos on top of each other, ghosting shows up as slight blurring around the edges of your static subject matter. If your camera is mounted on a tripod then ghosting is theoretically eliminated as the camera is steady between shots. Most HDR software allows you to control any ghosting when overlaying multiple pictures. HDR software will try to eliminate any ghosting when combining and processing the individual images into the final output image.
A series of long exposure pictures, particularly with people in the scene, will have plenty of blurred motion with the movement in each image drastically different to the previous. This movement can be used creatively by adjusting the ghosting settings.
I took 5 seperate pictures of New Yorks Grand Central railway station concourse taken with exposures of –
20secs
10secs
5 secs
2.5 secs
1 sec
The images were merged in Photomatix Pro. Both Lightroom and Photoshop have Merge to HDR features but I personally prefer using Photomatix Pro. The ghosting setting was adjusted to give the scene a pleasant overall sensation of the peoples movement. If you try this technique, move the ghosting slider and watch the motion in your images transform itself as the setting changes.
Use of the deghosting setting has a major effect on how the movement is portrayed in the finished HDR picture.
The pictures below show the difference between a deghosting setting of 0 on the left and at 64 on the right.
HDR Finishing Touches
I always tend to leave my HDR images for a day or two after the initial converting to a merged image. I do this because I like to come back with a fresh eye. There are so many variations of tone and contrast effects that I feel I become desensitised to the intense colours and contrasts inherent in HDR processing.
The small break allows me to come back with a fresh eye. I think its similar to eating rich food, after a while your taste buds become overwhelmed and the food doesnt taste as nice the more you eat. I definitely feel my visual acuity gets desensitised by the high saturation and contrast of newly merged HDR images.
Below is the completed long exposure HDR. The colour toning was applied seperately after conversion using Colour Efex Pro 4.
Thanks for reading my take on long exposure HDR photography – I really hope you found it useful! There are links to more photography techniques below.
Let me know your thoughts in the comments section.
All the best for now
Cheers
Gary