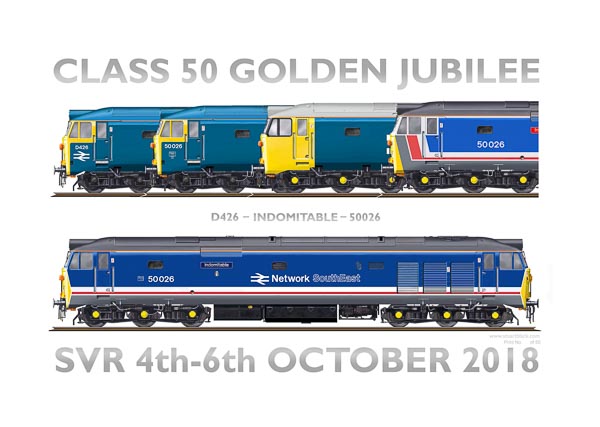 Fund Raising Raffle for Class 50 50026 Indomitable
To coincide with the Severn Valley Railway Class 50 Golden Jubilee Gala, we are running a raffle to raise funds for Class 50 50026 Indomitable.
In light of the circumstances last Saturday, where the start-up following engine repairs didnt quite go to plan, this fund raising takes on an even more pressing importance. The original plan was to run the raffle from the stall during the event, but in light of the sad news of 50026s withdrawal from the event, we wanted to start now and increase the visibility of the raffle.
Tickets are available online now and from the stall at Bewdley station throughout the gala until 3.30pm on Saturday. The draw will be made at 4pm on Saturday 6th October.
Raffle Prizes
We have some great prizes up for grabs as follows –
1st Prize – A signed limited edition print of 50026 in Large Logo livery and current Revised NSE livery
2nd Prize – A piston from the power unit in 50026 (IH6937)
3rd Prize – A signed limited edition print showing the evolution of 50026 from D426 in BR Blue in the various liveries carried above a full picture of 50026 in current livery
4th prize – A big end shell from 50026s power unit
5th prize – limited edition '50s at 50′ t-shirt
* prints signed by Paul, Darryl, Lee & Midi
Tickets are priced at £2 each and you can buy as many as you want.
Your raffle numbers will be emailed to you following checkout.
The Rocky Road of Diesel Preservation
Please support 50026 and the team who have literally busted a gut to have her ready for the gala. The difficulties encountered last Saturday are a big reminder of the fickleness of diesel preservation. Despite the great recent success stories of 50044 and 50033, 50026 shows that even with state of the art facilities, a fantastically dedicated and technically sound support team and 100s of man hours of work, things dont always go well.
Dont forget the profits from any product you buy here goes towards 50021 & 50026 so if you dont fancy a bash at the raffle you might find a nice little gift and still help both locos out!
Thanks for reading and hope you buy a few tickets, we look forward to seeing you at Bewdley!
Cheers
Gary & Dawn
Share this Fund Raising Raffle for Class 50 50026 Indomitable with your family and friends …. thanks!