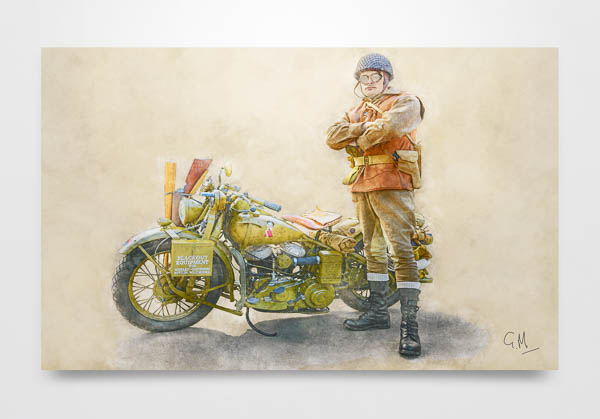 What A Gift – Personalised Artwork With Our Commissioned Art Service!
Ever thought of buying someone close to you a commissed picture featuring their classic vehicle, aircraft or loco?
The GDMK Images Commissioned Art Service is now available and arranging a commissioned picture is easy as 1, 2, 3 ….
Commissioning Your Own Artwork Has Never Been Easier
Commission Your Own Artwork Made Simple As 1, 2, 3 …
I will work with you to commission a stunning digital painting artwork of your chosen subject.
I have many happy customers who have commissioned a unique digital painting of their pride and joy. A few examples are shown below
Design Process
Flexibility with Control
The commissioned art design process is completely flexible. You choose an existing style from a reference picture in my existing galleries or we can discuss a style that appeals to you.
Once a style is chosen I will start work on your digital painting. At various stages I will send you developmental views of how your commissioned artwork is progressing. This allows you to review the digital painting and guide the look of the final artwork.
Once the image is completed you can choose what type of product your picture can be mounted upon.
How Much Will It Cost?
My hourly artist time rate is extremely competitive and can be discounted if you allow me to add the picture to my portfolio and use it for resale on my site. You always have the right to maintain exclusivity but I retain copyright of all developmental and final images.
Picture Product Options
Your commissioned artwork can be mounted on any of our wall art products including canvas, metal, wood and acrylic. Wood, metal and canvas prints are available up to 72″ x 48″.
Postage is £7.50 for canvas prints and £12.50 for all other products up to 60″ x 40″. A custom quote will be given for anything above 60″.
Payment Arrangements
All payments are handled via Paypal Invoices. I will send you a detailed invoice which you can pay with any card via Paypal. You do not need a Paypal account – Paypal is extremely easy to use and above all else its secure.
I hope this introduction to the GDMK Images commissioned art service has been useful and shows you how easy it would be to commission your own picture.
Read more details about the commissioned art service
If you have any questions then please send them to me via the form below
Send Your Commissioned Artwork Questions Via This Form
Subscribe and always be up to date with the latest Commissioned Artwork information